Soundex Codes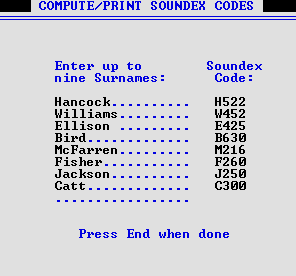 Soundex is an excellent system used for the indexing of people—especially for recent U.S. censuses. A Soundex code consists of the first letter of the person's last name, and a three-digit number that represents the sound of the remaining letters of the surname. Names that are spelled differently, but that sound the same, have identical Soundex codes.
A Soundex calculator is built into A&D to let you determine the four-character Soundex code for any name or group of names.
Part of A&D Screen 78a is shown at the right. You can enter nine surnames at a time. The Soundex code is instantly calculated after you enter each name.
When done, you can print your Soundex list. The resultant report is a very convenient listing to take to a library or family history center. It will help you find people in census records and passenger lists that have Soundex indexes.
Copyright © 1997, 1998 by Adventures In Ancestry, Inc. All Rights Reserved.