In the 1880 U.S. census the Annie's family was enumerated in Spring Valley, Lincoln, Nevada. Her father Frank was listed as a farmer; he also had a small herd of cattle. The children were Frank C., 9, Wilhelmina, 6, George H., 4, Anna, 2, and Joseph, 1 month. Her mother Elizabeth's youngest sister, her aunt, Barbara Staheli, 18, was living with them as a servant. Another aunt, Mary Staheli Olson, was living in Spring Valley with her husband Hans Olson, and three children.

Annie had four more sisters born in Spring Valley, Nevada. These were Emma Rosina in 1882, Lemira Louisa in 1885, Laura Barbara in 1888, and Clara May in 1890. In the spring of 1892 the children came down with diptheria. Her sister Emma, age 10, and brother Joseph, age 12 years, died.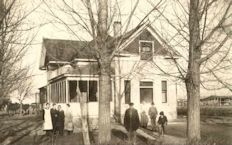 Disheartened, Annie's family left Nevada in Nov 1892, and moved to Hinckley, Millard, Utah. They settled on a 200 acre farm, with 25 acres in alfalfa. Their first house was a two room log cabin. Annie's last brother Karl was born in 1893, but died in 1894 before a year old. Her father built a large nine-room brick house for the family, seen at right.

Annie attended the Brigham Young Academy, Provo, Utah, graduating in 1895. She taught school in Hinckley, and is listed as a teacher in a group photograph taken in Dec 1898. [ Source 377] Annie married Niels Alma Patterson on 10 Oct 1900 in the Salt Lake LDS Temple, Salt Lake City, Salt Lake, Utah. Their first home was in Hinckley, Millard, Utah, where they began their family of nine children. Karl Alma was born in 1901 and Verda was born in 1904, both in Hinckley.

Their next years were spent in Eureka, Juab, Utah, and Salt Lake City, Utah, Utah. In Eureka her husband Niels worked as a stationery engineer for the mines. Laurence was born in 1905, and Francis Leon in 1907, both in Eureka. In the 1910 U.S. census, Annie and Niels were living in a rented house at 344 Fourth North, Salt Lake City Ward 3, Salt Lake, Utah. Niels was a carpenter, doing odd jobs. They had been married 9 years. Their children were Carl A., 8, Verda, 6, Laurence, 4, and Leone, 2.

Clara was born in 1910, Owen Rumel, 1912, Zella, 1915, and Vernon LeRoy in 1917, all in Eureka. In September 1918 when her husband registered for the World War I draft, the family was living in Eureka, and he was working as a stationary engineer for the mines.

In late 1918, Annie and Niels moved their family to Provo, Utah, Utah. In the 1920 U.S. census, they were living at 358 4th Street South, Provo Ward 2, Utah, Utah. They owned their house with a mortgage, and Niels was a stationary engineer for the Union Pacific railroad. Their children were Karl, 18, Verda, 16, Laurence, 14, Leone, 12, Clara, 9, Owen, 7, Zella, 5, and Vernon, 2. Their last child Elayne was born in 1921 in Provo.

In the 1929 Provo City Directory and the 1930 U.S. census, Annie and Niels were still at 358 4th Street South, Provo. They owned their house, valued at $3,000. and owned a radio set. Niels was a solicitor for a correspondence school. The children at home were Lawrence, 24, solicitor for a correspondence school, Clara, 19, stenographer for a wholesale warehouse, Owen, 17, Zella, 14, Vernon, 12, and Elaine, 9.

During the course of their marriage, Annie and Niels lived at various addresses in Provo. In the 1940 U.S. census, Annie W. and N. Alma were living at 444 N. First West, Provo. The children at home were Owen, 28, a laborer for the mines, Vernon, 23, a laborer for the railroad, and Elayne, 19, a stenographer for the county. Annie had completed two years of college.

In the 1944 Provo City Directory Snnir snf Niels are listed at 102 W 10th North, Provo. Niels was listed as a city Constable and clerk for the Roberts Hotel. Their sons Owen and Vernon, listed at the address, were in the U.S. Army.

Annie was an active member of the LDS Church. She was the recipient of an honorary Golden Gleaner Award, a 25-year Primary pin, and was a Relief Society teacher for 50 years. She was a member of the Daughters of Pioneers and the Alice Louise Reynolds Club [Brigham Young Academy]. She also served for five years as a probation officer for the Fifth District Juvenile Court.

In 1960, Annie and Niels celebrated their 60th wedding anniversary, and in 1963 their 85th birthdays with open houses attended by their family and many friends.

Annie's husband Niels died 16 Apr 1964 at the Eldred Sunset Manor Hospital in Provo, after a marriage of 64 years. In Feb 1968, an open house was held to celebrate her 90th birthday. On 1 Aug 1968, Annie was a passenger in a car driven by her daughter Zella Sweet. They were involved in a two vehicle accident in Orem, and both were thrown from the car. Transported to the Utah Valley Hospital, Annie died two hours later. Zella was hospitalized with inhuries.

Funeral services were held 5 Aug 1968 in the Park-University LDS Ward Chapel, Provo. Survivors included her nine children, 30 grandchildren, 51 great-grandchildren, four sisters, and one brother. She is buried with her husband in the Provo City Cemetery, Provo, Utah.