Lemira's father Frank was a farmer, who also had a small herd of cattle. Lemira's older siblings were Francis Clemons, Jr., born in 1871, Mary Elizabeth, born in 1872, who died two days later, Wilhelmina Barbara, born in 1873, George Henry, born in 1875, Annie Sophia, born in 1878, Joseph Antone, born in 1880, and Emma Rosina born in 1882. Lemira had two more sisters born in Spring Valley, Nevada. These were Laura Barbara in 1888, and Clara May in 1890. In the spring of 1892, the children came down with diptheria. Emma, age 10, and Joseph, age 12, died in Jun 1892.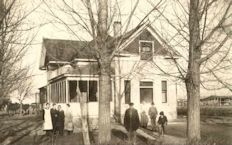 Disheartened, Lemira's family left Nevada in Nov 1892, and moved to Hinckley, Millard, Utah. They settled on a 200 acre farm, with 25 acres in alfalfa. Their first house was a two room log cabin. Lemira's last brother Karl was born in 1893, but died in 1894 before a year old. Her father built a large nine-room brick house for the family, seen at right.

In the 1900 U.S. census, Lemira's family was enumerated in Hinckley, Millard, Utah, where her father Frank was a farmer. The household included George, 24, his wife Alice, 19, and daughter Rela, 7 months; Anna, 22, a teacher; and Lemira, 15, Laura, 12, and Clara, 10, all attending school. Also included was an adopted son, Jacob Felix, 13.

According to her own testimony [see Source 1891], Lemira attended the local Hinckley school and graduated in 1902 as county valedictorian. She attended the Latter Day Saint University in Salt Lake and graduated from the normal course in 1906. Returning to Hinckley, she taught in the local school.

Lemira married John Avery Bishop on 28 Aug 1907 in Salt Lake City, Salt Lake, Utah. In her testimony, she always called her husband Avery. Their first daughter Emma was born in 1908 in Holden, Millard, Utah. In 1909, following the failure of a diversion dam, they moved to Burtner*, Millard, Utah, where she and Avery continued teaching.

In the 1910 U.S. census, Lemira and Avery were living in Burtner*, Millard, Utah. They owned their own farm with a mortgage. Their daughter Erma was 17 months old. Both Avery and Lemira were school teachers in the local school district. *The town's name was changed to Delta in 1911.

In 1918, when her husband Avery registered for the World War I draft, they were living in Delta, Millard, Utah, where Avery was a farmer.

In the 1920 U.S. census, Lemira and Avery are enumerated in Delta (Town), Millard, Utah. Avery was a farm manager, working for a wage or salary. They owned their home free of mortgage. Their children were Erma, 11, Avery A., 6, Frank W. 3, Mohonri M. 3, and John A., 8 months.

In the 1930 U.S. census, Delta (Town), Millard, Utah, Lemira's husband Avery was a farmer, doing general farming on his own account, although they did not live on the farm. Their children were Erma, 21, Alvin A., 26, Frank W., 13, Mahonri M., 12, John A., 11, Lemira, 8, Ava, 5, and Ora M., 14 months.

In the 1940 U.S. census, Delta, Millard, Utah, Lemira and Avery were living on Center Street 3rd West, the same house as in 1935. Lemira had completed one year of college. Her husband had completed two years of college, and was a manager. Their children still at home included Frances, 23, Mahonri M., 22, John A., 21, Lemira, 18, Ava, 15, and Ora May, 11.

Lemira and Avery took their family on many camping and fishing trips, and visited many of the parks. They traveled east, visiting Niagra Falls, Detroit, and places of LDS church history; and they traveled west, visiting the World Fair in San Francisco, Los Angeles, Yosemite, and Lake Tahoe. Both Lemira and Avery had musical talents. Lemira gave music lessons, and was an organist, playing in all the organizations of their LDS ward. She was active in the Relief society, acting as counselor, teacher, secretary and superintendant. She and Avery did temple work in all of the temples in the United States. Lemira was also active in the Daughters of Utah Pioneers.

Lemira's husband John Avery died 12 Apr 1962. At the time their residence was at 89 North 300 West, Delta, Utah. Lemira died 11 Sep 1980, in Delta. They are buried in the Delta Cemetery, Delta, Millard, Utah.