Notes: Leonard Haws Johnson was born 7 Apr 1920 in Fort Sam Houston, San Antonio, Bexar, Texas. He was the third child of William Percy Johnson and Elizabeth Haws. His older sister Ethelyn J. was born in 1917, and older brother William Julius in 1918, both in Texas. In the 1920 U.S. census, taken before Leonard was born, William and Elizabeth were living at 438 Oak Street in Ward 5 of San Antonio, Bexar, Texas. William listed himself as a soldier. Their children were Ethelyn, 2, and Percy J., 1.

William and Ethelyn moved to Arizona where seven more children were born. These included Raymond, born in 1921, Anthony, born in 1922, Priscilla, Josephine, born in 1925, Beatrice, born in 1928, and Dean born in 1930.

In the 1930 U.S. census, Leonard was living with his family at 2125 Twenty-Fifth Place in Creighton, Maricopa, Arizona. The family owned their home valued at $3,000. His father William was in the building business, working with composition and tile. The children were Ethelyn, 13, Julius W., 11, Leonard H., 9, Raymond, 7, Anthony I., 8, Priscilla, 6, Josephine, 4, Beatrice, 1, and Dean M., 1 month. The oldest six children were attending school.

Leonard's sister Beatrice died in 1931; and his brother Keith, born in 1932 died in 1933. He had three more sisters, Joyce, born in 1934, and Leah and Karen.

In the 1940 U.S. census, Leonard was still living with his family on North 25th Place in Maricopa County, Arizona. The family owned their home, now valued at $2,000. His father William was a cement finisher in the building industry. His mother was keeping house. The children were Ethelyn J., 22, a hospital bookkeeper; William J., 21, a cafeteria waiter; Leonard H., 20, 4 years of high school and a warehouse worker in the chemical industry; Anthony I., 18, atending school; Raymond D. 17, a newspaper delivery boy; Priscilla, 16, keeping house; Josephine, 14, and Dean M., 10, attending school; and Joyce, 6, Leah A., 3, and Karen S., 2.

The family were members of the LDS Church, and Leonard served in a Spanish-speaking mission. He joined the U.S. Air Corp as a pilot during World War II, attaining the rank of Second Lieutenant. On 20 Apr 1945, he married Eileen Felix in the Salt Lake Temple, Salt Lake City, Utah. They had met during an earlier LDS mission. They had a family of four children.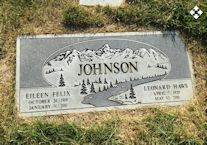 Leonard graduated from BYU with a degree in economics. He began his career with the Utah Farm Bureau, was promoted to the American Farm Bureau, and eventually was the supervisor for 32 years for all states west of the Mississippi. There are numerous newspaper articles mentioning him speaking to various farm bureau meetings and conventions.

Leonard died 13 May 2010 in Provo, Utah, Utah. His funeral services were held 18 May 2010 at the Berg Mortuary, Oren, Utah. He is buried in the Wasatch Lawn Memorial Park, Salt Lake City, Utah.