Eternal Calendar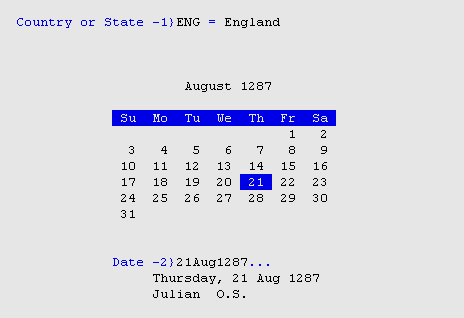 The Eternal Calendar built into A&D lets you view the calendar for any month from the year 1 through 2075 A.D.—a period of over 21 centuries. It also shows you the day of the week for any date.
After you enter the country and date for which you want to create the calendar, it automatically switches to either the Julian or Gregorian system applicable to the country and the month that you entered. It also adjusts for non-existent dates and for short years.
With A&D's software, you will be able to press the Page Up or Page Down keys to instantly move forward or backward one year at a time. The Up and Down Arrow keys will move you one month backward or forward. The Left and Right Arrow keys will move you one day backward or forward.

Copyright © 2000 by Adventures In Ancestry, Inc. All Rights Reserved.