Events, Attributes, and Facts
A&D simplifies the building of family histories by helping you record all of the important events, attributes, and facts about individuals, their relationships, and where they lived.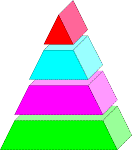 Events are happenings that occur at a particular place and a point in time. Examples are a birth event, a marriage event, a death event, and a move into a new house.


Attributes are inherent characteristics of a person, a relationship, or a household — that are not tied to a single date or point in time. Examples are a person's name, sex, and occupation; the number of children that resulted from a marriage; and the address of a household.


Facts are events or attributes that have been confirmed to be valid and correct.


A&D allows the recording of a very large and variable number of events, attributes, and facts about the people, relationships, and households within a family history. For example, you can record any number of changes of a person's name, and all of the move events when a family or person moved from one place to another. Options are available to let you instantly change the type of events and attributes applicable to a person or relationship. See data fields for a list of standard events and attributes.
Copyright © 1998 by Adventures In Ancestry, Inc. All Rights Reserved.