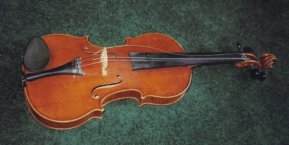 Notes: Peter John Miller, better known as Pete, was born 18 Jan 1899 in Perth Amboy, Middlesex, New Jersey. He was the youngest of five sons born to Christian Hansen and Dorthea Møller. He was christened on 16 Apr 1899 at St. Stephan's Danish Lutheran Church. In the 1900 U.S. census, the family was living at 237 Washington Street, Perth Amboy. By the 1910 U.S. census, the family had moved to 315 Washington Street. The entire family was musical, and Pete played the violin shown in the photograph at right.

In September 1918, Pete registered for the World War Draft. He was 18 years old, and living with his family at 315 Washington Street. He was a bank clerk for First National Bank, located at 126 Smith Street. He was described as being tall and slender, with blue eyes and brown hair.



On 30 Nov 1918, Pete married Evelyn Mae Baldwin in Rahway, Union, New Jersey. They are shown at the left two months before their marriage. When Pete was born, a birth certificate was issued without a name. It states that there are five living children of his mother. His father, Chris H. Miller, signed a "Supplemental Report of Birth Containing Name of Child", on 11 Nov 1918, shortly before his marriage.

In the 1920 U.S. census, Pete and Evelyn, along with their infant son John(Jack), were living at 228 Sherman Road, Perth Amboy. Also living with them were Chris Miller, his wife Anna, and son August. Pete was a bookkeeper for a bank. In 1921, their second son Robert(Bob) was born. Their daughter Frances was born in 1923, and two more sons were born in 1926 and 1929.

In 1922, Pete and Evelyn were living in South Plainfield, New Jersey. Pete was a member of the Mt. Zion F.& A.M. Lodge in Metuchen, New Jersey. He remained a member until his death in 1967, as seen by a 1967 membership card. They were members of the First Presbyterian Church of Perth Amboy. At some time they transfered their church membership to the the South Plainfield Baptist Church.

Pete is found in the 1930 U.S.census, listed as an inmate in the U.S. Federal Penitentiary, Atlanta, Georgia, located in South Bend. The reason is currently unknown. Evelyn and the children spent a year living nearby in Atlanta. On 11 Jan 1931, Pete and Evelyn returned to the Presbyterian Church in Perth Amboy. At this time, their address was 205 Patterson Street, Perth Amboy, New Jersey. His occupation was listed in the Perth Amboy City Directory as credit manager for Reynolds Bros., Inc.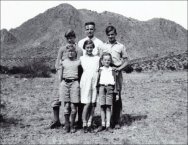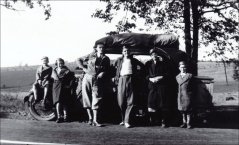 For some period of time, Pete had a print shop in Perth Amboy, named the Raritan Letter Shop. The depression was a rough time, and on 5 Oct 1935 Pete finally left New Jersey with the family. As seen at left, they traveled by car, with all of their possessions, to California, following the southern route.

There the family settled in Wilmar(now Rosemead), Los Angeles County. Their 1939 address was 2912 Stevens Avenue, Wilmar. Pete worked as an accountant. It was also here that their last child, a daughter, was born. In the 1940 U.S. census, the entire family is listed. Pete had completed the 8th grade and was working as an accountant for a drugstore. He had earned $1680 in 1939. Their son Jack, at age 20, was an apprentice for a brick mason.

After moving several times, as documented by the postcards they received, Pete and Evelyn finally settled at 101 East Adams, Alhambra. In 1954, the phone directory lists them and their son Bob as living at that address. Pete was the owner of the Pete Miller Paint Co., 223 East Valley Blvd., Alhambra, and he had a branch store in Montebello. When grandchildren visited the store, they would always get a stick of Wrigley's chewing gum. With the help of three of his sons, he eventually built five paint and wallpaper stores in Southern California. (See Source No. 1273)

Pete was very active in the First Presbyterian Church of Alhambra. Among other things, he was an Elder, and served on the Board of Trustees. One of his major contributions to the church was the establishment of the Jack Miller Memorial Library in the memory of their oldest son who was killed while serving in the Air Force in World War II. He received $24.90 per month for his lifetime from the National Service Life Insurance policy on Jack following his death. He also received a letter of condolence from General Douglas MacArthur.

Pete was very active in the community. Among other activities, he was active in the Alhambra YMCA, serving on the Executive Board for at least three years, and as Membership Chairman in 1955. In May of 1963, he served as general campaign manager for the re-election of Alhambra City Council member, Mrs. Norma Yocum.

Pete semi-retired, and he and Evelyn moved to the desert in Hesperia, San Bernardino about 1958. In 1961, he opened a new paint store. He was active in the Hesperia Chamber of Commerce, serving on the Retail Division, and was a member of the Kiwanis service club. He and his wife attended the Congregational Church, where he served as President of the Board of Trustees.

Pete died unexpectedly 19 Nov 1967 of a heart attack. Upon his death, their residence was 17681 Cajon Street, Hesperia. His last driver's license had been issued 3 Jan 1967, when he was turning 76 years old. At that time, he was described as 5"-8" tall, 170 lbs, with gray hair and blue eyes. The paint store held a major liquidation sale a year later in December 1968. On Wednesday, 22 Nov 1967, funeral services were held at the Pierce Brothers-Fred A. Turner Chapel, Alhambra. The Assistant Pastor, Rev. James Glyer, of the First Presbyterian Church of Alhambra, led the services. A Memorial Service was held at the Hesperia Congregational Church on Sunday, 26 Nov 1967, led by Rev. Ivan Konkoly.

Pete is buried in Rose Hills Memorial Park, Whittier, California, in Parkview Lawn next to his son Jack L. Miller, and wife Evelyn Mae Miller.