Notes: Mary Agnes Noble (known by all of us as Aunt Mary) was my great-aunt. She never married. She was born in Logan, Perth, Ontario on 6 Nov 1876 with the assistance of Mrs. Moffat as midwife. In the 1881 and 1891 Canada censuses, she was living with her parents and seven older brothers and sisters in Logan, Perth, Ontario. In 1892, she immigrated to the United States with her family, settling in Ontario, California. She left Sarnia, Ontario, traveling by train on the Grand Trunk Railroad, arriving in Port Huron, Michigan, on 22 Dec 1892. Carnmunnock was her residence in Canada.




In 1900, Mary was living with her parents and brother Walter in Ontario, California. Mary was a witness at the marriage of William Edgar Dean to her sister Robina (Bena) on January 30, 1901, in Ontario. On 20 Jun 1906, she attended her sister Amy's wedding to Henry Olson, and was the hostess to several out of town guests that week.

The 1907-1908 Jamestown City Directory shows that she was rooming at 318 Pendergrast, Jamestown, New York, while she was a teacher in that town. The 1910 U.S. census shows her living with her mother Agnes and sister Mern at 22 N. 5th Street, Alhambra, California, and in 1920 with Mern alone. By 1926, Mern had built a home at 505 N. Second Street, and the Alhambra phone directories list Mary living with her. Their sister Amy joined them after her son Don married. This was Mary's home until her death. The antique chair and the secretary desk in the photographs to the right belonged to the Noble sisters.

Mary attended State Normal School, a teachers school, at Los Angeles. This later became the University of California Southern Branch, now known as UCLA. The campus was located in downtown Los Angeles. She was the news editor of the Normal Exponet in 1899, a member of Phi Gamma Tou, and Vice President of the Winter Class of 1900. . She graduated on February 1, 1900, along with Josephine Olson and Margaret Waite.

Mary held a Grammar School Certificate from San Bernardino County, January 1901; a Jamestown (New York) Public Schools Teacher Certificate (1st grade), September 1906; a State of California Grammar School Life Diploma, August 13, 1906; Indorsement of Normal School Diploma, New York State, January 24, 1907; and a State of California Life Diploma of the Administrative Type, April 1, 1929.

Mary taught for the Los Angeles City School District, Bellflower, and became a principal. She once recounted in her diary that after a PTA board member had embezzled PTA funds, she had to testify at his trial. Another mundane mention was that the furnance in the main building broke on one of the coldest days of the year, and a repairman was not going to arrive until 10:30 a.m. She retired on May 31, 1939.

Mary was initiated into P.E.O. Chapter G, Long Beach, on 4 Jun 1910. The Chapter G yearbooks list her as living with Margaret Waite, one of her best friends, at 843 Olive Street, Long Beach, from 1911 to 1916, when she is then listed as living at 22 N. 5th Street, Alhambra. Mary was active in Chapter G, acting as Recording Secretary in 1911/12 and 1941/42, and as Guard in 1940/1941. She gave many of the programs, participated on the committees, and remained active until her death.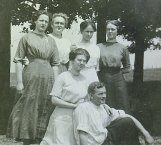 During her summer months, Mary traveled, visiting such places as Alaska and Death Valley. She also visited family members in New York, Ontario, and North Dakota. In 1912, she took a trip to Kansas with her sister Marion (Mern) and mother Agnes to visit her mother's sisters Marion and Mary. She also visited the McNaught and Noble branches of the family in Ontario, Canada, as seen at the left. On 21 Jun 1936, she left Glendale by train, traveling up to Seattle, where she met her cousin William Detwiller. She traveled on to Bismarck, North Dakota, to visit with the Nobles living there, and then on to Brussells, Ontario. She arrived home 7 Sep 1936, just in time for the new school year.

Mary became a naturalized citizen on 19 May 1917. At that time. she described herself as white, fair complexion, 5 feet 4 inches, weighing 118 pounds, with brown hair and blue eyes. Besides P.E.O., Mary was active in P.B.W.C. (Professional & Business Women's Club), the J.O.C., and the First Presbyterian Church of Alhambra.

Mary developed abdominal cancer, which eventually metestasiced. She died 29 Aug 1967, while residing in the Bonnie Brae Sanitarium in San Gabriel. Services were held 1 Sep 1967 at Pierce Brothers-Fred A. Turner in Alhambra, the Rev. Russell J. Prentice officiating. Interment followed at the San Gabriel Cemetery, San Gabriel, California.