In the spring of 1876, the family moved to Desert Springs, Nevada, and her parents Frank and Elizabeth ran the mail station. It was a stopping place for travelers going between Salt Lake City and Los Angeles. The family returned to Spring Valley, Nevada, where her sister Annie Sophia was born in 1878, and brother Joseph Antone in 1880.

In the 1880 U.S. census the family was enumerated in Spring Valley, Lincoln, Nevada. Her father Frank was listed as a farmer; he also had a small herd of cattle. Her mother Elizabeth's youngest sister Barbara Staheli was living with them as a servant. Another sister Mary was living in Spring Valley with her husband Hans Olson, and three children.

Wilhelmina had four more sisters born in Spring Valley, Nevada. These were Emma Rosina in 1882, Lemira Louisa in 1885, Laura Barbara in 1888, and Clara May in 1890. In the spring of 1892 the children came down with diptheria. Her sister Emma, age 10, and brother Joseph, age 12 years, died.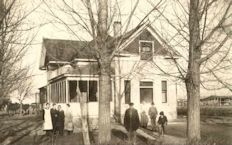 Disheartened, Wilhelmina's family left Nevada in Nov 1892, and moved to Hinckley, Millard, Utah. They settled on a 200 acre farm, with 25 acres in alfalfa. Their first house was a two room log cabin. Wilhelmina's last brother Karl was born in 1893, but died in 1894 before a year old. Her father built a large nine-room brick house for the family, seen at right.

Wilhelmina attended Brigham Young Academy in Provo, Utah, completing her education in 1897. She returned to Hinckley, where she taught grades one through four in the district school. Wilhelmina married Thomas Maurice Walker on 5 October 1898 in the Salt Lake Temple, Salt Lake City, Salt Lake, Utah.

In the 1900 U.S. census, Wilhelmina and her husband Thomas were living in Hinckley, Millard, Utah. Enumerated as Morris in this census, Thomas was a carpenter, and they owned their house free of mortgage. They had a daughter Vera, born in Aug 1899. Thomas was a section hand for the Union Pacific Railroad, and Wilhelmina cooked for the men. As such they moved around Utah and Nevada, including Black Rock, Eureka, and Salt Lake City where Thomas did carpenter work.

Their son Maurice Vernet was born in Mar 1902, and daughter Elma in July 1904. In 1905 the family moved to Virgin, Utah, her husband's home town. Then in Mar 1906, the family moved to Hurricane, Washington, Utah. The history sources note that "Mr. and Mrs. Thomas M. Hinton became the first residents of Hurricane when they occupied the bench in 1906." Their home, built by Thomas, was located at 199 North and 200 West, Hurricane. Daughter Lela was born in Dec 1907.

In the 1910 U.S. census, Wilhelmina and Thomas were living in Hurricane, Washington, Utah. Thomas was a house carpenter. They had been married 11 years and Wilhelmina had had five children, all of whom were then living. The youngest was Lucille, born April 1910. Jay Louis was born in Sep 1913, and Francis Clemons in April 1917.

In the 1920 U.S. census, Wilhelmina and Thomas's address was listed as 2nd West Street, Hurricane, and Thomas was now a farmer, farming on his own account. The children at home included Vernet, a farm hand on the family farm, Elma, Lela, Lucile, Louis, and Francis. All of the children except the youngest had attended school. Living with them as renters were their daughter Vera Eagar and her husband Thomas Eagar, a sheep herder.

In the 1930 U.S. census, Wilhelmina and Thomas were described as living on a farm on Third North, Hurricane. The children at home were Vernet, a preacher for the Mormon church, Lucille, a telephone operator, Louis, a mail boy, and Francis, attending school.

In the 1940 U.S. census, Hurricane, Wilhelmina and Thomas were living in the same house as in 1935, which they owned, valued at $1,000. Thomas was a farmer and Wilhelmina was a nurse. The children at home were Jay, a paper delivery man, and Clemons, a sheep herder.

In 1920, Dr. Wilkinson asked Wilhelmina to assist with childbirths, and she became a midwife. Over the next twenty-four years she recorded 442 childbirths. She also cared for the sick. She was active in her church, and led various choirs, and contributed readings and poetry for weddings and funerals. She was also a reporter, being the Hurricane correspondent for the Washington County News for many years.

Her husband Thomas died 29 Feb 1948 in Hurricane, Washington, Utah, and was buried 2 Mar 1948 in the Hurricane City Cemetery, Hurricane, Washington, Utah. Wilhelmina was active in Hurricane Valley for another twenty years. She died 10 Oct 1968, and is buried with her husband in the Hurricane Cemetery.