In the spring of 1876, the family moved to Desert Springs, Nevada, and his parents Frank and Elizabeth ran the mail station. It was a stopping place for travelers going between Salt Lake City and Los Angeles. The family returned to Spring Valley, Nevada, where his sister Annie Sophia was born in 1878, and brother Joseph Antone in 1880.

In the 1880 U.S. census the family was enumerated in Spring Valley, Lincoln, Nevada. His father Frank was listed as a farmer; he also had a small herd of cattle. The children were Franck C., 9, Wilhelmina, 6, George H., 4, Anna, 2, and Joseph, 1 month. His mother Elizabeth's youngest sister, his aunt, Barbara Staheli, 18, was living with them as a servant. Another aunt, Mary Staheli Olson, was living in Spring Valley with her husband Hans Olson, and three children.

George had four more sisters born in Spring Valley, Nevada. These were Emma Rosina in 1882, Lemira Louisa in 1885, Laura Barbara in 1888, and Clara May in 1890. In the spring of 1892 the children came down with diptheria. His sister Emma, age 10, and brother Joseph, age 12 years, died.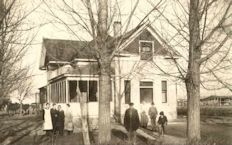 Disheartened, George's family left Nevada in Nov 1892, and moved to Hinckley, Millard, Utah. They settled on a 200 acre farm, with 25 acres in alfalfa. Their first house was a two room log cabin. George's last brother Karl was born in 1893, but died in 1894 before a year old. His father built a large nine-room brick house for the family, seen at right.

George married Alice Louisa Stout on 30 Nov 1898. According to family records, they were married in Salt Lake City, Salt Lake, Utah, as this is the date and place given for their L.D.S. endowments and sealing to each other in the Salt Lake Temple. The county marriage records give Millard County as the place of marriage.

In the 1900 U.S. census, George was living with his wife Alice in his parents's home in Hinckley, Millard, Utah. They had a daughter, Rela, 7 months old. No occupation was listed. In addition to his parents Frank and Elizabeth, his siblings still at home were Anna, 22, a teacher, Lemira, 15, Jacob Felix, 13, Laura, 12, and Clara, 10.

According to LDS missionary records, George served a mission from May 1899 through May 1901 in the Southern States Mission. This record gives a baptism date of 19 Aug 1886 by John Hammond, and lists him as a member of the Priesthood. George's father Francis Clemons Walker died in Oct 1907, and George was listed as both the informant and the undertaker. In Jun 1909, George was appointed a deputy game warden for Hinckley by the State Fish and Game Commissioner. This was service without pay except for what he made on commission on the sale of licenses.

In the 1910 U.S. census, George and his wife Alice were living in Hinckley, Millard, Utah. George was a general farmer, farming on his own account. They owned the farm, free of mortgage. They had been married eleven years, and Alice had had six children, all of whom were then living. The children were Rulie, 10, in school, Leslie G., 8, in school, Reed C., 6, Hosea L., 4, Alma L., 2, and Orson W., 1 month. Also listed in the household was James H. Hepworth, 13, a nephew, in school.

Unfortunately, Alma Leo died in 1911 from bronchial pneumonia following the measles. He was buried in the Hinckley City Cemetery. Jay Everett was born in 1912, Elizabeth in 1914 (in Rockville), Rolf Stout in 1916, and Ned Stout in 1918. Rolf died in 1919 of pernicous anemia, and shares a headstone with Alma in the Hinckley City Cemetery.

On Sep 12, 1918, when George registered for the World War I draft, he was 43 years old, and described as being of medium height, medium build, with blue eyes and dark hair. He only had one eye. His residence was in Hinckley, and he was employed as a laborer for the Millard County Lumber Company in Oasis, Millard, Utah.



In the 1920 U.S. census, Hinckley, George and his wife Alice owned their house, not a farm, free of mortgage. George was a salesman for a lumber company. The children were Rela, 20, Leslie G., 18, in school, Reed C., 15, in school, Hosea L., 13, in school, Orson W., 9, in school, Everett, 7, Elizabeth, 5, and Ned S., 1. Two more children were added to the family, Karl Francis and Floyd Henry. George is seen at right with his mother Elizabeth, son Leslie George and grandson Kleis in 1926.

George died 21 Aug 1927 in the L.D.S. Hospital, Salt Lake City, Salt Lake, Utah. He had become ill in Hinckley, and was taken to the hospital in Salt Lake City. Cause of death was a secondary hemorrhage following a cholecystectomy (removal of the gall bladder). He was buried 24 Aug 1927 in the Hinckley City Cemetery, Hinckley, Millard, Utah.