Innis' older siblings were Rebecca, born in 1860, Marion, 1862, Elizabeth, 1865, John, 1867, Alexander, 1870, Annie, 1873, William, 1875, James, 1876, and Isabella, 1878. Bertha, born in 1869, died as an infant, and Christopher, 1863, died in 1876. His younger brother Robert was born in 1885.

In 1887, Alexander Detwiller, his father died. In the 1891 Canada census, he was living with his mother Elizabeth, sisters Marion and Isabella, and brother James in the town of Mitchell.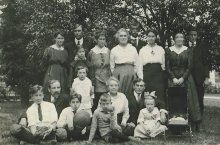 According to family notes, Innis married Ethel Austin on 10 Jul 1912, place not given. In the 1916 Saskatchewan census, he and Ethel were living in Wood Creek, Last Mountain, Saskatchewan. The homestead was located on the SW Sec. 10, Twp. 28, Range 25, W2nd Meridian. He was listed as a farmer. Two of his brothers, James Gavin and Robert Hamilton were farming adjacent lots.

On 4 Dec 1917, he and Ethel are reported arriving in Seattle, Washington, via Vancouver, British Columbia, on a trip to Alhambra, California. Seen at the right is the Christmas gathering of Canadian and California relatives at 22 N. Fifth Street, Alhambra. It included Detwillers, Nobles, Olsons, and Deans.


When Innis' sister Marion died in January 1919, the newspaper reported him as living in Imperial, Saskatchewan. He is not found in the 1921 Canada census. He is shown at left with his mother and three of his brothers. He farmed until 1929, when he and Ethel moved into the town of Imperial. In 1935, 1938, 1940, and 1956, Innis is listed in the Canada Voters Lists as an agent, then as a gentleman, in the Lake Centre electoral district. He became a grain buyer for Western Grain Company. In 1957, 1958, 1962, 1963, and 1965, he was in the Moose Jaw-Lake Centre electoral district.

According to family notes, Innis died 29 Jan 1976, in Watrus, Saskatchewan.