This, our fifth website, resides on a web server located in the eastern U.S. It exists as Internet domain hancockonline.net and alias domains hancockonline.name and hancockonline.us. Our page counts are:
Page counts
Indi-
viduals
Relation-
ships
House-
holds
Sources
Photo-
graphs
Trees
Other
Totals
Hancock family
1,044
424
134
1,286
987
138
39
4,052
Olson family
750
322
672
1,709
1,438
397
129
5,417
A&D software
70
70
Other pages
202
47
249
* Page Totals
1,794
746
806
2,995
2,627
535
285
9,788
We create and maintain our web pages using the hypertext mark-up language (HTML) on our desktop computers. We scan and add old non-digital photos with our Lexmark Pro715 scanner. We then copy the pages from our computers to our remote web server. Pages added since 2002 conform to
and CSS2 standards. Pages added since 2013 are tested with Chrome, Firefox, Edge, and Safari browsers on Windows 10 on our 64-bit computers, and with Safari on our iPad.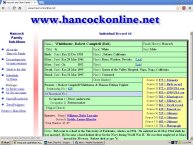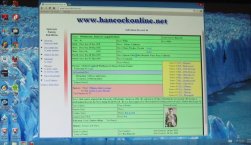 Most of our web pages match our 8½" x 11" paper records on individuals, relationships, households, sources, and tree charts. The photo at the left shows an Individual Record on a 1024 x 768 pixel screen. The photo at the right shows the same record on a 1920 x 1080 pixel screen. In both cases, the Individual Record prints in 8½" x 11" portrait format by following the print procedure for your browser. For optimum printing use a 1024 x 768 pixel or higher display, small fonts, and the Chrome browser.
Our four predecessor websites went online in and evolved as follows:
1. December 1995, but was small and slow
2. February 1997 and was bigger and better
3. June 1997 and evolved to 70 pages
4. October 2002 with the new URL www.hancockonline.net. It grew to 211 pages.
The web servers for these four sites were initially located in Santa Monica, next in Los Angeles, and then in Auburn, California. The first three sites were commercial sites located at our prior www.AIA-AnD.com URL. Some data within our sites, as the sites existed from May 1997 to Dec 2014, were archived and are available from the Internet Archive's Wayback Machine (www.archive.org).