Notes: Amy Susan Noble was born 18 Mar 1881 to Walter and Agnes Noble. The family was living on Lot 27, Con. 16 of Logan Twp., Perth, Ontario. There was no doctor or midwife in attendance. Her name was registered as "Emma Susan". The 1881 and 1891 Canada Census shows Amy living with her parents and 7 siblings in Logan Twp., Perth. In 1881, she is listed as Emma Susan, and in 1891 as Annie. She emmigrated to the United States with her family in 1892 or 1883, and became a naturalized citizen. She attended 9th grade in the Ontario Public Schools, California (1896-1897), and her grammar school diploma is dated June 26, 1896. Her Los Angeles Normal School diploma is dated January 30, 1902. She was a school teacher for over 4 years before marriage. [In those day, you could no longer teach school when you married.]

Amy, her sister Mary, and her future husband Henry, and his sisters and cousins, were often mentioned in the Alhambra Advocate during the late 1890's and early 1900's. In June 1899, they all attended an evening of games, dancing, music, and refreshments in the Parish Hall, San Gabriel. In December, the gentlemen again held a dance with the same people in attendance. Parties, picnics, and church socials were all reported in the local newspapers.

Amy married Henry Olson on June 20, 1906, in her family's home in Ontario, California. Their son Donald Keith was born March 29, 1907, and the 1910 U.S> census reports the family living at 326 Wilson Avenue, Alhambra. When Don was young, Amy gave him birthday parties, with his cousins and friends in attendance. These were duly reported in the local newspapers. Their daughter Agnes Wilma was born October 4, 1911.
Amy was a member of the First Presbyterian Church, Alhambra, California, from January 29, 1908 until her death. Her picture appears in the 1962 Photograph Album of the church members. Her recipe for Italian Delight, a macaroni casserole, appears in the Women's Association cookbook.



During the summer, the family would visit Balboa Beach, Laguna Beach, the San Gabriel River at Whittier Narrows, and the Rio Hondo River. The photograph to the left shows them enjoying Laguna Beach circa 1916. In later years, they traveled to Camp Baldy, in the San Antonio Canyon of the San Gabriel Mountains.

The 1915 Alhambra Directory shows Amy living with her husband Henry at 340 North Wilson Avenue, Alhambra. The 1920 U.S. census records the entire family at 340 North Wilson.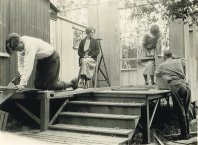 In 1923 and 1926, the Alhambra Directory shows the family living at 420 North Second Street. Henry had built the two-story house about 1922. He built the cabin at Camp Baldy in the summer of 1925, with help from the family as seen in the photograph at right.

In October 1928, Agnes became ill, and passed away January 19,1929, during her senior year of high school. The 1930 U.S. census shows Amy living with her husband Henry, son Don, mother-in-law Mary Olson, and nephew Maurice Noble at 420 North Second Street.

Henry passed away May 9, 1934, from renal tuberculosis. Both she and Don also were ill, with Don spending time in a sanitarium during his college years. As a result, in her later years Amy did not venture out to church or other affairs very often.

The 1939 directory and the 1940 U.S. census lists her as a widow living at 420 N. Second St., Alhambra, with her son Don.

Amy was always hopeful that she would someday have grandchildren, but Don was in no hurry to settle down. He finally married Frances on October 1, 1944, and they went on to give her seven grandchildren. When she died at age 90, she also had 4 great-grandchildren. She recorded the daily coming and goings of the children in her diaries.

Amy cooked, and many of the recipies she collected have survived. Her grandchildren will remember the pot of pink beans that she would occasionally send across the street for supper. But most remembered is "Grandma Olson's Cake". This was a cake made by her mother-in-law, Mary Staheli Olson, but the boiled cream and cocoa icing was Amy's creation. It's a tricky cake to make, sometimes coming up with lumps of flour in it, or cracked icing, but her grandchildren still make it today.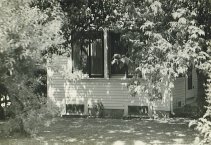 In 1954, she is listed as living with Mary Noble, her sister, at 505 North. Second St., Alhambra (just across the street from the family home where Don and family now lived). An additional bedroom, (seen in the photo at right) with wood paneling, was built on to the back of the house for her. Here she lived until her final illness.




Amy died 25 Apr 1971 in a nursing home in San Gabriel, California. The funeral services were held at the Chapel of Turner & Stevens, Alhambra, on 29 Apr 1971, the Rev. Russel J. Prentice presiding. She is buried in the Olson family plot in the San Gabriel Cemetery, San Gabriel, California. The Social Securiy Index lists her last residence as Alhambra, Los Angeles, California. Among her and her sister Mary's possessions were the chair and the secretary desk seen at the right.