Notes: Wilfred (Bill) was born in Lampton County, Ontario, Canada on 27 Sep 1892, and thus was a British citizen. His parents were Frank Thomas Hancock and Mary Ellen Fisher. He was the oldest of five children. In later life he often mentioned his memories of ice skating on a frozen stream as a child in Forest. In the 1901 CAN census, Wilfred, age 8, was living with his parents and four younger sisters in Pt. Edward, Lampton West. His mother died of Typhoid fever in 1902, and his father brought him at age 10 and his sisters to the United States in September 1902. They settled in Napa, California.



By 1908, Wilfred was working for Earl G. Wilson, a Napa electrician who had a store at 59 N. Main (Source 84), which also doubled as a Western Union Telegraph Office. In addition to learning about gas lighting and the new electrical trade, Wilfred learned the Intercontinential Morse code and worked as a telegraph operator. He enjoyed telling how he, while working for Earl Wilson as a young man, converted many wine cellers in Napa County from gas to electric lighting.

In the 1910 US census, Wilfred, 17, was living at 124 North St. in Napa with his father Frank and stepmother Carrie. Wilfred was an electrician and his father was a carpenter. Also living in the household was his sister Gertrude, 14, and stepbrothers Clifford, 4, and Arthur 1.

Wilfred married Nora Agnes Samuels on 8 Aug 1911 in San Francisco. He was 19— years old, but their marriage license indicated that he was 21.

During World War I, since he was still a British citizen, Wilfred was afraid that he would be drafted into the British Army of George V, the King of Great Britain and Ireland. But he never was. He did register for the U.S. Draft on 5 Jun 1917.

In the 1920 US census, Wilfred, 27, and Nora were living on Second Street with their four children. Wilfred was an electrician for a store. Their children were Leola, 7, Bee, 6, Warren, 4, and Ruth 2. Also living with them was Nora's sister, Mildred Samuels, 23. The census was taken on 2 Jan 1920, and Wilfred had not yet become a U.S. citizen. Eighteen days later, on 20 Jan 1920, at the age of 27, he became a citizen.

During those early years while his children were young, Wilfred rode motorcycles, played a harmonica, and smoked a pipe. However, he soon quit smoking. Wilfred was the president of the Napa Motorcycle Club in 1911. One time while he was on his way to Calistoga, he slid on gravel and hit a cow — which had to be killed.

Wilfred was 5' 4" tall, had blue eyes, light complexion, and light brown hair. In his later years, his hair turned gray and he went bald on top. He also wore wire-rimmed bifocals. He was quiet and soft-spoken.

In the 1930 U.S. census, Wilfred and Nora, both 37, were living at the Second Street address. Wilfred was still an electrician for a radio store. Their children were Leola, 18, Bee, 16, Warren, 14, and Ruth, 13. From 1922 through 1934, Wilfred was registered to vote as a Republican in the Carneros Precinct, Napa. From 1936 through 1944, he was registered as a Democrat in Precinct No. 9, Napa.

In the 1940 U.S. census, Wilfred and Nora were still living on Second Street. By now their children had all moved on to other residences. Still an electrician, the census record reads "building inspector"? His income was $1,600 yearly and their home was valued at $1,500.

In the 1950 U.S. census, Wilfred and his wife Nora were now living on Church Street, Napa. Wilfred was listed as an electrician in the ship building Nora was listed as keeping house. Their son Warren and grandson Daniel, age 10, had moved into the houehold. Warren was working as a fruit packer.






Wilfred was very active in the Napa IOOF Lodge No. 18 for 50 years. He was their financial secretary for 15 years. Everyone knew him as "Bill", but sometimes he was called "WC" since he always printed his initials on checks. He was involved in the work of several other Odd Fellow branches, the Rebekahs (of which his wife was a member), the Encampment, and the Uniform Rank. Four photographs show Wilfred in his IOOF uniforms in circa 1922, 1922, 1928, and 1950, respectively. He looked handsome in his black uniform with his sword. The right photo is when Wilfred received his 50-year jewel in 1969.

Wilfred was also a member of the Old Timer's Social Club, which held meetings and a 'real old-time dance' once a month. Wilfred and Nora Hancock and Duke and Viola Duhig attended many IOOF/Rebekah functions together. Viola commented many times at what an excellent dancer Wilfred was.

Wilfred worked as an electrician for a total of 51 years. He spent many years working for the Basalt Rock Company's steel fabricating and shipbuilding business next to the Napa River. When he started at Basalt prior to the beginning of World War II, Wilfred was offered an assignment at Pearl Harbor. After 7 Dec 1941, his family was very glad that he had declined that offer.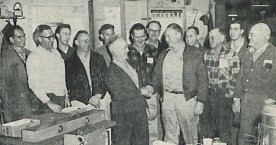 Wilfred became an employee of Kaiser Steel's Napa Fabricating Division when Kaiser bought Basalt's steel operation in 1955. Wilfred retired from Kaiser Steel in December 1957. He was well liked and respected by his superiors and fellow workers, and was known as one one of the best practical electricians ever to work at the facility. His superintendent said "When Wilfred is sent out on a job, we quit worrying about it. We know that somehow he will get the job done — and done right. He may have to tear down a farmer's fence to get materials, but equipment will run when Wilfred finishes with it!" Wilfred was proud that he routinely climbed the 90-foot electric poles at Basalt and Kaiser, while the younger electricians were afraid to do it. Wilfred was a member of the International Brotherhood of Electrical Workers (IBEW) union.

At home, his garage or basement was always full of old tools and gas and electrical equipment. Wilfred was an energetic handyman around the house. He added additional electrical circuits for the various power equipment that he had, for Dan's electric train tables, and for the electric fans he installed in the attic (to provide some relief from the hot Napa weather). If he felt that something needed to be done on the power pole feeding his house, Wilfred would put on his spurs and climb the pole himself — rather than calling PG&E to service it. Wilfred converted his lawn mower to electric power. Ironically, Wilfred always shaved with a straight razor — rather than an electric razor.

Wilfred began to suffer from emphysema in about 1964 — undoubtedly due to his working around ships and asbestos insulation for many years (i.e., unrecognized asbestosis). His freedom ended when he had a stroke in December 1969 that kept him bedridden until his death. He was a patient at Hy-lond Convalescent Hospital, Napa, and his wife Nora joined him there in December 1971 after a hip fracture.

Wilfred died 9 Aug 1974 at the Hy-lond Convalescent Hospital. Funeral services were held 13 Aug 1974 at the Treadway and Wigger Funeral Chapel. The Rev. Charles F. Knipe of the First Presbyterian of Napa will officiated with participation from the 100F Chapter 18. Entombment is in Tulocay Cemetery Mausoleum.