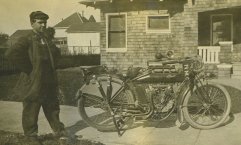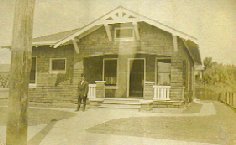 Notes: The first photo shows Wilfred in the summer of 1911 in front of his new home at 1100 West Second Street in Napa. In the second photo he shows off his Indian motorcycle, with a Napa Motorcycle Club (NMC) pendant on the handle bars. Nora and he were married on August 8, 1911.

Two Serenades September 1, 1911 Napa, California

"Twenty members of the Napa Motorcycle Club and friends serenaded Mr. and Mrs. Wilfred Hancock at their home at 1100 West Second street Friday night. Mr. Hancock, President of the club, who was recently married, was taken by surprise, but he and his wife invited the company in, and entertained them in pleasant manner.

The visitors brought some ice cream and cake along, so that eatables were not lacking. Captain Otto Fischer, on behalf of the club, presented the couple with a handsome set of silver knives, forks and spoons.

At about 11:30 all left for the residence of Mr. and Mrs. C. Staton, on Seminary street, who were also recently married. This couple were also serenaded, and responded by greeting the visitors."


"Motor Club September 23 & 24, 1911
Wilfred Hancock - President
Geo. Bernhard - Secretary and Treasurer
Otto Fisher - Captain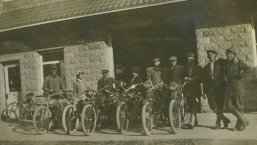 On the evening of the twenty third at 7 P.M. Rainbow Fisher led the following members of the club safely through to Livermore: Borette, Hancock, Hollingsworth, Adams, O. Hawkin, H. Hawkin, Thomas and wife, O. Fisher, and Beans. Arrived at Vallejo at 8 P.M. for 8:30 boat, where Borette got busy and fixed his puncture. Hawkin had lost his light and Borette's quick hand saved it from the dire calamity of being run over by a female bicycle. 9:30 passing Point Richmond, Borette had a second puncture; Beams as helper. 10:30 arrived at S.F.

Sunday morning, Fisher and Thomas were left behind in S.F. Borette and friend also left behind in Oakland. Fisher's only excuse was that he overslept; it may be so, but I don't know. 7:30 Hollingsworth, Hancock, and Borette all reported at the Excelsior Agency and waited for O. Hawkin, H. Hawkin, and Beans and those that did not appear who were Fisher, Thomas & wife, and Adams. My, such a bunch of tag bums! 6 started at 7:40 Livermore without the remaining laggards.

The first mishap was H. Hawkin ran over a man; nothing very serious. Next, Beans got run over, sprung his forks, smashed his lamp and battered up his machine a little, nothing too serious to ride.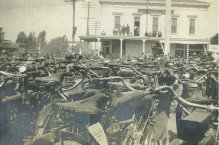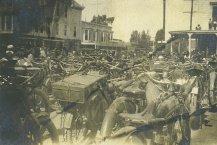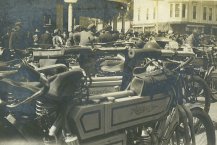 Livermore at 11 A.M. 72 miles from Napa, not much for dinner; too many motorists; about 12 or 1500 machines. Saw Stanford. About 2:30 all machines blockaded the road and the riders stuck to the sidewalls while the moving picture machine was displayed upon them. Programs were then given out. Road captains were called together to get riders for the races. Hancock started and got lost.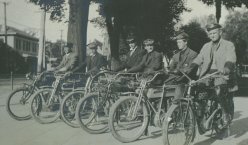 4 P.M. all started for home arriving in S.F. at 8 P.M. 8:30, boat leaves minus Thomas and wife. Hancock endeavored to fix a slow leak. Arrived in Vallejo, 10:30. H. Hawkins was stopped by a police for not having a light. All seven arrived home at 11:30. Good night!

W. Hancock, Reporter for M.C day, Sept 24, 1911."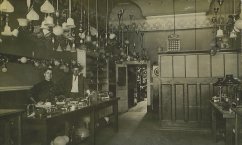 During these years, Wilfred worked for Earl G. Wilson, who was an electrical contractor and a retail electrical equipment and supplies dealer. The left photo above shows Wilfred and Earl in Earl's downtown Napa store in 1912. (In 1908 and 1909 Wilfred worked as a telegraph operator at the Western Union Telegraph and Cable Office which was next door to Earl Wilson's store — as shown in the right photo.)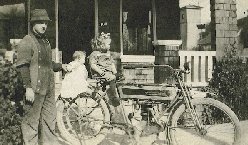 The left photo, taken in late 1913, shows Nora holding daughter Bee at the front of their 1100 West Second Street home. In the right photo, Wilfred shows off daughters Bee and Leola and his Sears Auto Cycle motorcycle in front of their 1100 West Second Street residence in Napa.

Soon thereafter, Earl Wilson sent Wilfred to Calistoga to help convert that town from gas to electrical lighting.