Marriage: Date} Exa 17 Jun 1961
Place} First Presbyterian Church, Santa Barbara, Santa Barbara, Calif.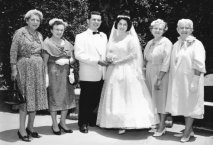 Notes: Dan and Diana were engaged during the summer of 1980 in Long Beach, California.

The first photograph at the left is of Dan and Diana at their wedding in Santa Barbara in 1961. The photo at the right shows them with their four grandmothers. Dan and Diana then went to Carmel and San Francisco on their honeymoon.

The couple spent their first year of married life living in a one-bedroom apartment in Lynwood, California. Dan worked as a Reliability Engineer at the Autonetics Division of North American Aviation in Downey, while Diana worked in the downtown Los Angeles fashion industry as an assistant designer and patternmaker. This was the time of Camelot both in Washington D.C. with the Kennedy presidency and in the Hancock household: Dan and Diana's favorite music was Camelot. One of their most entrancing pastimes was enjoying a boxed dinner and wine under the stars at the Hollywood Bowl before a ballet performance of Swan Lake or The Nutcracker.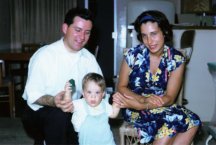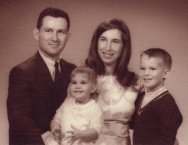 They next moved to a two-bedroom apartment in Placentia, California, following the relocation of Autonetics to Anaheim. This was Richard's first home. The photo at the left shows Dan, Diana, and Richard in 1963 at Placentia.

The family spent their next 10 years in Anaheim, California. The photo on the right shows Dan, Diana, Katharine, and Rich in December 1967. The photo at the left below shows Diana and Katharine in 1972 during an outing to the Queen Mary in Long Beach, California. It was during these years that the family's love with downhill skiing began, first with trips to the local Big Bear area ski slopes, and later to the larger resorts at Mammoth and Squaw Valley, California, and Salt Lake City, Utah.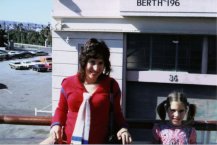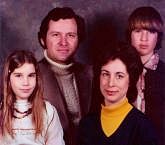 In 1975, following Dan's transfer to the Admiral Division of Rockwell International, the family moved to Schaumburg, Illinois. The photo at the right shows Katharine, Dan, Diana, and Rich in May 1976 at Schaumburg. Diana worked at a Head retail store there and Rich distributed the Chicago Tribure.

In 1977, following Dan's transfer to the B-1 Division of Rockwell International, the family moved to Huntington Beach, California. In 1978, after President Carter's termination of the B-1 program, Dan voluntered for layoff.

In 1979 Dan and Diana opened their computer store, Adventures In Computing, Inc., in nearby Fountain Valley, California. Almost immediately, due to the lack of available accounting software for microcomputers, they had to redirect the company's efforts to developing professional accounting software for small businesses. Their first software General Ledger product was delivered in 1980. Software sales thereafter surpassed hardware sales. However, with declining market conditions and insufficient sales, the business was downsized in 1981 and dissolved in 1982. Dan and Diana's marriage was dissolved in 1981.