Notes: Daniel Warren Hancock, known as Dan, was born 20 Oct 1939, at 1:20 p.m., in the Victory Hospital, Napa, Napa, California. His parents were Warren Samuel Hancock and Viola Clide Williams. His Birth Certificate lists his parents living at 2425 Second Street the residence of Dan's paternal grandparents, Wilfred and Nora Hancock. After Dan's birth, his parents moved into their own home at 1206 Banks Avenue (Alta Heights).

In the 1940 USA census, Dan, 5 months old, was living with his parents at the Banks Avenue home. His parents owned the home, valued at $4,000. His father was a salesman for a wholesale oil company. His parents divorced in 1941, and he and his father went to live with his paternal grandparents. His mother was given the Banks Avenue home.

As a young child, Dan had birthday parties where his mother invited her friends and their young children. In 1940, he won second prize in the six months to one year Napa County Fair baby show. He was taken on many trips with his grandparents along. These included Dillion Beach, CA in 1941 and 1942; Seattle, WA, and Portland, OR in 1942; Sacramento, CA in 1942; and San Francisco Bay and river cruises on his Grandfather William's boat starting in 1943.

In the 1950 USA census, Dan, age 10, was living with his father and his grandparents, Wilfred and Nora Hancock, at 827 Church Street, Napa. His father was a fruit packer, and his grandfather was a ship electrician.

Dan entered Kindergarden in September 1944 at Lincoln Elementary School, Napa. In September 1949, he attended Intermediate School; in 1951, Napa Union High School; in 1954, Ridgeview High School, Napa; in 1955, Napa College, which was actually his high school years. He graduated with his High School Diploma on 14 Jun 1957.

Dan's father was an avid shortwave radio listener (SWL). In the mid-1950s he helped Dan set up antennas and an amateur radio station. Dan earned his FCC radio license K6GAA, and communicated with other hams (mostly on 40 meters via 25-WPM CW (Morse) code). He also was interested in robotics, and built a line of simple robots. His large robot, about 5 feet tall, is currently with one of his cousins.

A fourth-generation native of Napa, California, Dan began formal family history research as a teenager. He interviewed his parents, all of his grandparents, and aunts and uncles, taking notes on 5x7" index cards.

In high school, Dan was a member of, or was active in, the Amateur Radio Club, Mellonta Tauta, Club International, the Science Fiction Club, the Science Club, the National Junior Honor Society, the Napa Valley Amateur Radio Club, and the American Radio Relay League.

In the summer of June 1956, Dan and 22 other Napa students took a ten week European tour under the direction of Dr. Leo Trepp, who taught Western civilization at the college. At the University of Mainz, Mainz, German Federal Republic, they took a class in Western Civilization from the German point of view. In all they visited Austria, Belgium, England, France, the German Federal Republic, Holland, Italy, Monaco, Norway, the Vatican, San Marino, Sweden, and Switzerland. Along the way, they touched down in Laborador, Newfoundland, and Iceland.

In September 1957, Dan entered California State Polytechnic College, San Luis Obispo. He was a member of the Institute of Radio Engineers, The American Rocket Society (Secretary, President), The Blue Key National Honor Fraternity, the Cal Poly Amateur Radio Club, and the Campus Welcome Week Committee (First vice-chairman). In the 1959 Yearbook, he is pictured living in the Palomar Dorm. He graduated 17 Jun 1961 with a Bachelor of Science in Mathematics.

During summer vacations Dan was employed in several occupations. In 1957 while living with Simeon and Bess Williams, his maternal grandparents, he was an Assistant TV repairman for the Fort Bragg Co-op. In 1958, he stayed at Cal Poly San Suis Obispo and was a bus-boy. In 1959, he was employed as a electronic technician by Don-Lee Electronics in Vallejo. And in 1960, he was employed as a electronic inspector for North American Aviation, Autonetics Division in Downey, California.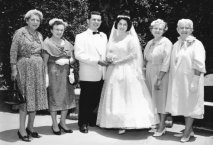 Dan became engaged to Diana Jeannette Kingsbury during the summer of 1960 in Long Beach, California. They were married on 17 Jun 1961 in the United Presbyterian Church, Santa Barbara, California, the Rev. W. Frederick Wills presiding. The photograph at the left is of Dan and Diana and the photo at the right shows them with their four grandmothers. They went to Carmel and San Francisco on their honeymoon.

Dan and Diana's first home was a one bedroom apartment in South Gate, California. It was a two story complex built around a swimming pool. Since it was an adults-only facility, they had to move when Richard was born, moving to an apartment complex in Placentia. At this time, Dan was working at North American Aviation, Autonetics Division (NAA), as a Reliability Engineer. In 1964 they bought a new condominium in Anaheim, where they could see the nightly fireworks from Disneyland. Kathy was born when they were living here.

Promoted to senior engineering and managerial positions, he remained with NAA (later named Rockwell International and now part of The Boeing Company) for 16 years. During those years he worked on the U.S. Navy's SINS, Polaris, and Poseidon programs; the USAF's Minuteman I, Minuteman II, and B-1B Lancer programs, for which he had a Secret Security clearance. He also worked on Rockwell's Admiral Color Television program (where he was the Color TV Program Manager).

In the fall of 1974, Dan moved to Schaumburg, Illinois, working for Rockwell as its realibility program manager for Admiral. Diana and the children joined him in the spring in their new home. Knowing that layoffs were coming, he voluntered, and the family moved back to California where they bought a home in Huntington Beach

In 1978, Dan and Diana launched Adventures In Computing, Inc. (AIC). He developed accounting applications — which he marketed and sold to small businesses and to Cromenco, a Silicon Valley computer manufacturer. He was active in the Fountain Valley Chamber of Commerce (FVCC), where he was a First Vice President and Member of the Board of Directors. He was the FVCC's director of the 1981 Gordon Bennet Balloon Race.

On 9 May 1981, Dan married Karen L. Holliday (formerly Olson) in the home of Pat Crockett, the FVCC executive. Dan and Karen had become acquainted serving together on the Chamber Board. They moved into a nearby apartment in Fountain Valley, and AIC was closed with the help of Karen, as the company's attorney.

In 1981 Dan joined the Citicorp Development Center (CDC) in Los Angeles, a software-development unit of Citibank and Citigroup. During his 23 years there he worked with ATMs, minicomputers, and secured computer networks. He was appointed to several chief-of-staff, product, and line-management positions. His last position was as CDC's Business Information Security Officer (BISO) and manager of Security & Configuration Management. Dan was a retiree of both The Boeing Company and Citigroup.

On 1 Sep 1982 Dan and Karen moved into an apartment in Culver City, to avoid the long commute from Orange County. They finally bought a beautiful two-story home in Culver City. Meanwhile, Dan designed, programmed, and marketed the A&D genealogical software system, founded Adventures In Ancestry, Inc. with Karen, and in 1995 obtained a U.S. Patent on genealogical date processing. During his 50+ years of computer experience, he taught numerous courses on information system design, report writers, IBM utilities and JCL, word processing, Microsoft programming, HTML, and on accounting and genealogy applications.

Dan retired in 2004, and he and Karen moved north to Auburn, California. This gave them the opportunity to ski at the local resorts, including Squaw Valley. Starting in 2001, shortly after the 9-11 tragedy, they started on 17 years of river and ocean cruises. Together they visited 60 countries, touching on 6 continents. See the Photo Gallery.

Shortly after their arrival in Auburn in 2004, Dan and Karen discovered the "Double Shots" playing every Wednesday night at The Club Car, a local resturant. They are a guitar and singing duo, playing the songs of the 60's - 90's. They always played a slow one to let Dan and Karen dance.

During his lifetime, Dan had many medical problems, but they never kept him down. These included surgeries for tonsils, hernias, appendix, cataracts, cardiac pacemaker, heart valve, base of tongue cancer, and many skin cancers. He also developed Chronic myeloid leukemia (CML) and Parkinson's disease. Dan's last cruise was to London, Norway and Iceland in 2019, where he enjoyed the cruise, but was unable to take the tours. By 2020 he needed in-home care.

Dan and Karen marked their 40th Anniversary on 9 May 2021 when Dan was in the hospital after a fall. He died Wednesday, 19 May 2021, at home with his wife Karen and stepdaughter Tiffany at his side. Death was due to complications from Parkinsons. Graveside services were held 4 June 2021 at the New Auburn Cemetery, the Pastor Paul Baigai presiding.