Notes: Frank Thomas Hancock and Caroline Maud (Carrie) Hicks were married 3 Oct 1904 in Napa, Napa. Their two sons were born here. In the 1910 USA census, Frank T., 37, and Carrie M., 26, were living at 124 North Street, Napa. Listed as a carpenter, they were renting the house. Living in the household were Wilfred C., 17, an electrician, and Gertrude, 14, from Frank's first marriage, and Clifford H. 4, and Arthur S., 1.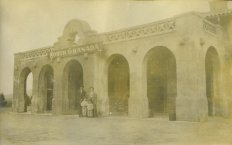 Frank and Carrie were attracted to the promises of the planned new oceanfront community of El Granada, California, which was heavily promoted as a homeowners' paradise — beginning with the commencement in June 1908 of Ocean Shore Railroad service from San Francisco. After April 1910, Frank rented a new house, built in 1909, at 338 Almeria Avenue in North El Granada.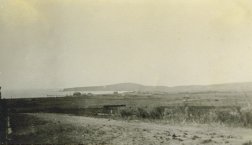 By the summer of 1913 Frank and Carrie were entertaining relatives from Napa and showing them the broad, beautiful beaches of Granada.
The photos at left show Frank, his visiting sister Nora, and Clifford and Arthur.


In the 1920 USA census, Frank, 48, and Caroline, 34, were renting property at "458" in the Denniston Precinct. He was a laborer, doing odd jobs. The other residents included their two sons, Clifford, 12, and Arthur, 11. Tragedy struck on 12 Jul 1922 when son Arthur accidentally hung himself. He was buried in the IOOF Cemetery, Half Moon Bay, San Mateo.

In the 1930 USA census, Frank, 60, and Carrie, 44, were living on owned property at an unrecorded address in El Granada. Frank was listed as a carpenter, house building. Living with them was "grandson Robert Hancock, 1". He was actually Harry Robert Dobbs, Frank's nephew.

In the 1940 USA census, Frank, 70, now a naturalized citizen, and Carrie, 54, owned their home in El Granada. Robert, 11, was now in fifth grade. Living nearby was their son Clifford and his family.

On 15 Jun 1947, Frank and Carrie hosted a family gathering at their home on Alemia Street in rural El Granada. Attendees included Richard (Dick) and Helen Beck and their son Richard (Dick) Jr., Ed and Myrtle Glos, Wilfred and Nora Hancock, Joan Ethel Harrison, Jerry and Alice Phelps, and others.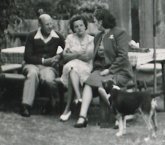 In the 1950 USA census, Frank, 83, and Carrie, 66, were living on Almeria, El Granada. He was listed as unable to work, and she as keeping house. Frank Hancock came to Napa sometime between 1948 and 1951 — which Dan believes was a very rare trip to Napa for him. Carrie probably was with Frank, but Dan doesn't remember her.

Frank continued to reside in El Granada until his death on 10 Apr 1951 in the San Mateo Community Hospital. He is buried in the IOOF Cemetery, Half Moon Bay, San Mateo. Carrie lived in El Granada until a year after Frank's death, then moved to Grass Valley, California, and lived there for years with her son Clifford and his wife Edith. Carrie died on 15 Jan 1968, and was buried IOOF Cemetery, Half Moon Bay, with her husband Frank.