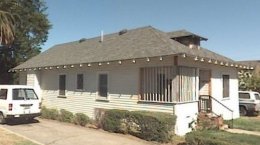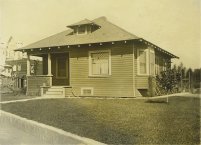 Notes: Don was born the 29th of March 1907 in Alhambra at 340 Wilson Avenue, shown in the photograph at right. Wilson was later renamed Atlantic Avenue, and the small house was still occupied into the 21st Century. He died in Alhambra, at the Atherton Baptist Home, located at 214 S. Atlantic, just a few blocks south of his birthplace. Until his semi-retirement to Mt. Baldy in 1980, he lived his entire life in Alhambra.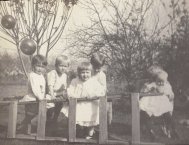 In the 1910 U.S. census, Don was living with his parents in the Wilson Street home. Agnes, his sister was born in 1911. Don's grandparents, Hans and Mary Olson, lived just south of the family, and his aunts and uncle's lived nearby. His maternal grandmother, Agnes Detwiller Noble, seen in the photograph to the near left, also lived nearby. He was closest friends with his cousin Lewis Lawyer, who was just six weeks younger. There were always family gatherings and birthday parties for the cousins and their friends, which were duly reported in the Los Angeles Times, the Alhambra Advocate, and the Alhambran. A photograph taken at his sixth birthday party is on the left. His fourth birthday party was reported as follows:
One of the pleasant events in society circles this week was the children's party given by Mrs. Henry J. Olson, 326 North Wilson Avenue, last Wednesday afternoon [29 March 1911] in honor of the fourth birthday of her son Donald Keith Olson. Those present were Mrs. Lawyer and son Lewis, Mrs. Heyman and daughter Ruth, Mrs. Winsor and daughter Elizabeth and son Edwin, Mrs. Ferrell and son Frederick, Mrs. Carr and daughter Evelyn, Mrs. Behlow and son Lewis, Mrs. Noble and son William of Los Angeles, Mrs. Dean and son Walter and daughter Marion of Ontario, California, Mrs. Mary Noble and grandmothers Noble and Olson.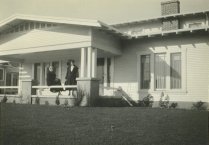 In the 1920 U.S. census, the family was still living on Wilson Avenue, but Henry was building a much larger, two-story home at 420 North Second Street, several blocks north (seen in photo at right). The family moved to the Second Street home about 1922 or 1923. Don attended Garfield Avenue School, Alhambra City Schools, from 1913 to 1921. His report cards show all 1's and 2's. In eighth grade, his teacher Edith C. Wilson wrote: "Superior development shown in self control, honesty, trustworthiness. Careful training needed to overcome natural reserve & shyness." These comments summed up Don's lifelong personal character.



Don attended Alhambra City High School from 1921 through 1925 His grades were average, above average and superior, and included English, Oral Expression, Spanish, Social Problems, History, Civics, Algebra, Geometry, Trigonometry, Chemistry, Physics, Freehand Drawing, Mechanical Drawing, Typing, and Gym. He was a member of the Scholarship Society for seven semesters, and a life member in the California Scholarship Federation. He also played on the Alhambra High School football team (see photo at left). His graduating class had a final awards night, presenting a three skit program that included all class members, and which was lit by the lighting equipment, their class gift to A.H.S.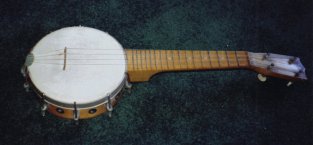 The Olson family was very talented musically. Don played the piano and a ukulele seen at the left. He was also a good tenor. Agnes played the banjo, and Henry played the violin. All of the instruments are in the possession of Karen Hancock. Don also enjoyed hiking in the mountains when the family visited Camp Baldy. Don and his cousin Paul Dean are shown at right after completing the climb to the top of Mt. San Antonio (Old Baldy), along with Walter Dean.

The entire family became ill with tuberculosis, and Agnes died in 1929. In 1930, Don and his parents were living in the family home on Second Street, joined by Maurice Noble, Don's cousin. Henry died in 1934. In 1940, only Amy and Donald were living in the family home.



After high school, Don attended Cal Tech in Pasadena. He played football and basketball (see photo on left) on Cal Tech's varsity teams, although he was neither heavy nor tall as are today's players. (Do we ever associate those games with Cal Tech?) He was a member of the Phi Alpha Tau and Pi Kappa Sigma. He and his fraternity brothers got together socially well into 1980's. He was a member of the R.O.T.C., and his sword is in the possession of Karen Hancock. In June 1927, he drove north in his old Ford to the Presidio in Monterey to attend training with R.O.T.C. Engineers, Company C. Don graduated 9 Jun 1933 with a Bachelor of Science in Science. It took him eight years to complete his degree due to contacting tuberculosis of the lungs. At some point during his college career, the Cal Tech newspaper reported that he had gotten too much bromine gas in the chem lab, and as a result would have to spend several months in the sanitarium.

During and after college, Don was quite a ladies man. When coming home from late evenings in Pasadena, he would cut off his car's engine, and coast from Huntington Drive, down Atlantic to Second Street, and into the family driveway at 420 North Second Street. Beside school buddies, his group of friends included members of the church choir. Social events, trips to the mountains and beaches, camping and picnics were all enjoyed. His mother was beginning to despair that he would never marry, and that she would never have any grandchildren. When he finally married at the age of 37, she ended up with seven grandchildren, and lived to see five great-grandchildren.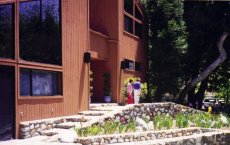 Don married Frances Dorthea Miller on 1 Oct 1944, in the First Presbyterian Church, Alhambra, seen at left. Don and Fran's first home was at 1025 Edith Avenue, Alhambra. In Aug 1947 they moved to 420 N. Second Street, Alhambra, where they raised their family. In 1980, they moved to their retirement home in Mt. Baldy, California, seen at right.

Don held a variety of jobs over his long work career. When his father died in 1934, he took over the sash and door business, named the Alhambra Planing Mill. On March 24, 1936, he went to work for Pres-A-Lite as a chemical engineer. Richard (Dick) Olson, his cousin, ran the business when Don was employed as an engineer. In 1944, he was employed as a inspector for the Southwest Welding & Manufacturing Company. He also worked at Union Carbide, but the work was too heavy, so he eventually came back to the sash and door business. He ran the business side, while Dick did the selling. It was about this time that he hired Nacho, a Mexican-American, as a general maintenance man. As he recalled, Nacho's wife made the best tamales. Don was a registered Republican for his entire life.

About 1948-1950, the county bought the land at the corner of Second Street and Woodward for a courthouse, paying for a "going business". Don and his mother split the proceeds. When the business moved from Woodward to 108 South Palm Avenue, in the southern part of Alhambra, it was renamed the Alhambra Sash & Door Company. Dick left to return to work for Frank Olson, their uncle. At some later date Milton Bade (Bade) came into the business, and he and Don became long time partners. In January 1975, the Alhambra Redevelopment Agency acquired the Palm Avenue property for the Alhambra Industrial Redevelopment Project. After the company finally ceased business, Don and Bade turned to other projects.

Don held a California State Contractors license, using it under the company name Alhambra Planing Mill. He and Bade, also worked under other various entities, including Mildon Co., Bade and Olson, Co., and Bade Construction Co., Inc. Among their projects was the buying of old homes or vacant lots in the Arcadia and Temple City area, and building new, upscale homes. They also acquired commercial property, leasing it to others.



Don was baptized in the Alhambra First Presbyterian Church on January 29th 1908 when it was still an old wooden building. The current building was built in 1927, and an addition was built in the 1950's. Don became a communicant member on January 7th 1922. He joined the choir in 1938, as a tenor. The choir leader was a Mr. Burger, followed by Mr. Gold, and later Mr. Smith. His future wife Frances Miller joined the choir in late 1940. John Stewart became the organist and choir director in January 1941, remaining there until his sudden death in the late 1960's. All of Don's seven children were baptized in this church, the last five by Rev. Russell Prentice. Don was a deacon, an elder, and a trustee, serving often on the session.

On March 21, 1982, Don was singing in the choir, his Frances was the guest organist, and their oldest grandaughter played flute to accompany the choir.

In the 1980's Don returned to college to pursue his interest in botany and other subjects, obtaining a Bachelor of Arts degree from California State University, Los Angeles. The young women college students always wanted to ride with Don on class field trips, as he drove an air-conditioned Cadillac.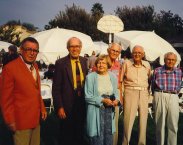 Over the many years, Don took thousands of photographs, recording the activities of his friends, relatives, and then of his children. Most of them are in the form of 35mm color slides. Sitting down for an evening of slides was a favorite family activity. In 1994, he and his wife celebrated their 50th Wedding Anniversary. Don is pictured at the far right, celebrating with his cousins, including Richard and Lewis Lawyer, Betty Kimball, and Ray and Larry Olson.

In his later years, Don was diagnosed with cancer of the prostate. He had a stroke in 1985. Up to his last year he took daily walks in the mountains, and worked on clearing brush from, and maintaining one of the trails. In The Baldy Breeze, after his death in 1996, he was remembered for his trail, the "Olson Trail", above the Glendora Ridge Road to the Cow Canyon Saddle. He died of a malignant brain tumor on 3 Mar 1986. He was at that time in a convalescent hospital on Atlantic, just a block from where he was born. His funeral service was held 7 Mar 1996, at the First Presbyterian Church, Alhambra. Participating were Dr. Foster H. Shannon, Pastor, The Rev. Russell Prentice, Mr. Stennis Waldon, Organist, Mr. Don Bowers, Soloist, and Mr. Walter Bitely, Usher. Interment followed at Rose Hills Memorial Park, Whittier, California.

Don was always interested in the family history, telling many family stories throughout the years. Many of these stories are included in the Notes of the persons involved.