Notes: Thomas and Mary Anne were married in March 1866. Thomas was then 24 years old and an itinerant preacher residing at Kingston on Thames. Mary Anne was 22 and a schoolmistress residing at Old Place Yard. They married in the Parish Church of St. John the Evangelist, Westminster (near Westminster Abbey) in London, Middlesex, England.

Thomas and Mary Anne had four children in England, but the oldest apparently died between Apr 1871 and May 1873. The young family then left Bristol for America on the S.S. Arragon and arrived in New York on 9 May 1873.

Their fifth child, William, was born on 17 Dec 1874 in Parkhill, Middlesex County, Ontario, Canada.

In January 1877, Thomas was deeded 32.5 acres in Bosanquet Township, Lambton County, Ontario, by the Canada Company. He worked the land as a farmer. At the time, only 20 of those acres were cleared. Their farm was a couple of miles from the town of Forest.

From the mid-1870s to the mid-1880s Thomas and Mary Anne had five more children. They built a large windmill on their farm and, during the next decade, raised their children, wheat, and oats — and had hollyhocks around their yard.

Thomas and Mary Anne later tired of farming and sold their farm in 1896. Apparently attracted by dramatic promotional advertising, they purchased land in the Maywood Colony near Corning, California, in 1900. They then immigrated to the U.S. and Corning, purchased a farmhouse there, but remained British citizens.

The Disastrous Year
The Hancock family was tragically shattered by three deaths in Canada during 1902:


1.
Nellie, the second daughter of Thomas and Mary Anne, died on 25 Mar 1902 at the age of 25¼ after enduring six months of pernicious anemia — and the birth of her third son, two months and 19 days prior to her death. Her husband, John Wright, was left a widower with three young sons from the age of 5¼ years down to less than three months.


2.
Mary Ellen, Frank's wife, died on 26 Sep 1902 while at Wallaceburg. She had not been well for some time, and succumbed to the ravages of Typhoid fever. She was just under 32 years old. Her remains were returned by express train to Forest, and then to Beechwood cemetery. Frank and their eldest daughter were also sick with the disease but both later recovered. He was left with five young children from the age of 10 years down to 20 months.


3.
Ida May, George's 11 year old daughter, was fatally burned on 22 Dec 1902 during a Christmas program at St. John's church in Strathroy. Mary, his wife was also burned. The disaster later resulted in the building of St. John's Parish Hall. A beautiful stained glass window depicting Christ with a lamb in His arms was placed there in Ida's memory.
We do not know for sure, but these horrible events may have been the final catalyst that caused nearly half of the family, including Frank and his five children, to pull up their Ontario roots and make their long move to California. Maud and Mary both married and also moved to California. Fannie first married John Culley — and later married James A. Jones and moved to Richdale, Alberta. Following Nellie's death, her widower husband, John Wright, moved with their children to Edmonton, Alberta. Only George, William, James, and Walter remained in Ontario, Canada.

At the time of the 1910 census (Source 94), eight of Thomas and Mary Anne's 10 children were still living.

On 6 Mar 1916, Thomas and Mary Anne celebrated their fiftieth wedding anniversary. They were then living in Corning, California. Over 70 people attended — including Fannie, James, and Walter from Canada. The lavish food included artichokes and crab salad, abalone with potatoes, olives and pickles, mashed potatoes and turnips, roast spring chicken with dressing, grandma's English plum pudding desert, cheese with toasted crackers, and tea, coffee, and milk. A detailed newspaper story and the following nine photographs recorded the event.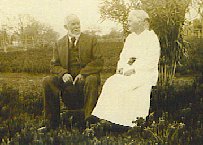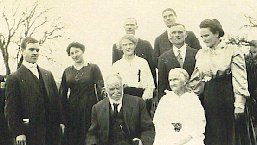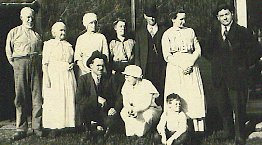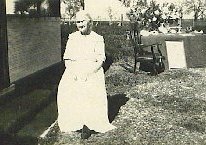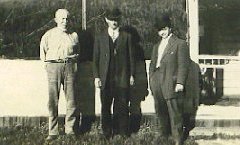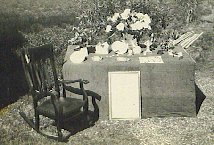 Again attracted by dramatic promotional advertising, Thomas and Mary Anne bought land from the Shore Line Investment Company in Granada, California, on 1 Feb 1916.

They then sold their property in the Maywood Colony in Corning on 12 Feb 1917.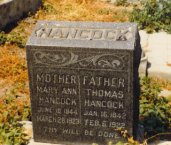 Thomas died on 6 Feb 1922 in Granada — three weeks after his 80th birthday. The marriage had lasted for nearly 56 years. Mary Anne followed him a year later on 28 Mar 1923. They rest together in the IOOF section of the Pilarcitos Cemetery at Half Moon Bay in California. Their black marble headstone says Thy will be done.